Dreaming up a perfect theme to suite the guest(s) of honor, crafting a menu that keeps everyone gathered around the table and working to create an experience that puts everyone at ease are just a few of the reasons why I LOVE planning parties!
Several years ago, I worked for a company that planned corporate meetings, mainly in the pharmaceutical space. Gathering RSVPs, managing travel plans for attendees and drafting up agendas were a big part of that world. It certainly played to my love of organization and list-making, but it didn't neccesarily allow for a ton of creativity.
As I mapped out my service offerings for The Baer Minimalist, I wanted to offer people a way to have memorable parties without all of the stress. Enter Party Kits!
This Fall, I worked to create all of the details for a Baby Shower (with a Surprise Gender Reveal included) hosted at a casino in Northern Indiana. Not neccesarily a conventional baby shower space, which is why we decided to have fun with it and use black and gold as our theme.
After an initial meeting with the host/client, I got started by creating a digital invitation.
Here are the four invitation designs that I presented to the host - which is your favorite? Click on each to view the full invite (with personal details blocked out, of course)!
The host opted for the 2nd invite below (with the light grey background).
Once the invitation design was decided, it was time to put together the decor. I opted to do a fun little spray paint project with baby items (purchased from Dollar Tree) to use around the centerpieces that were being supplied by the venue.
Check out the process to craft these little cuties: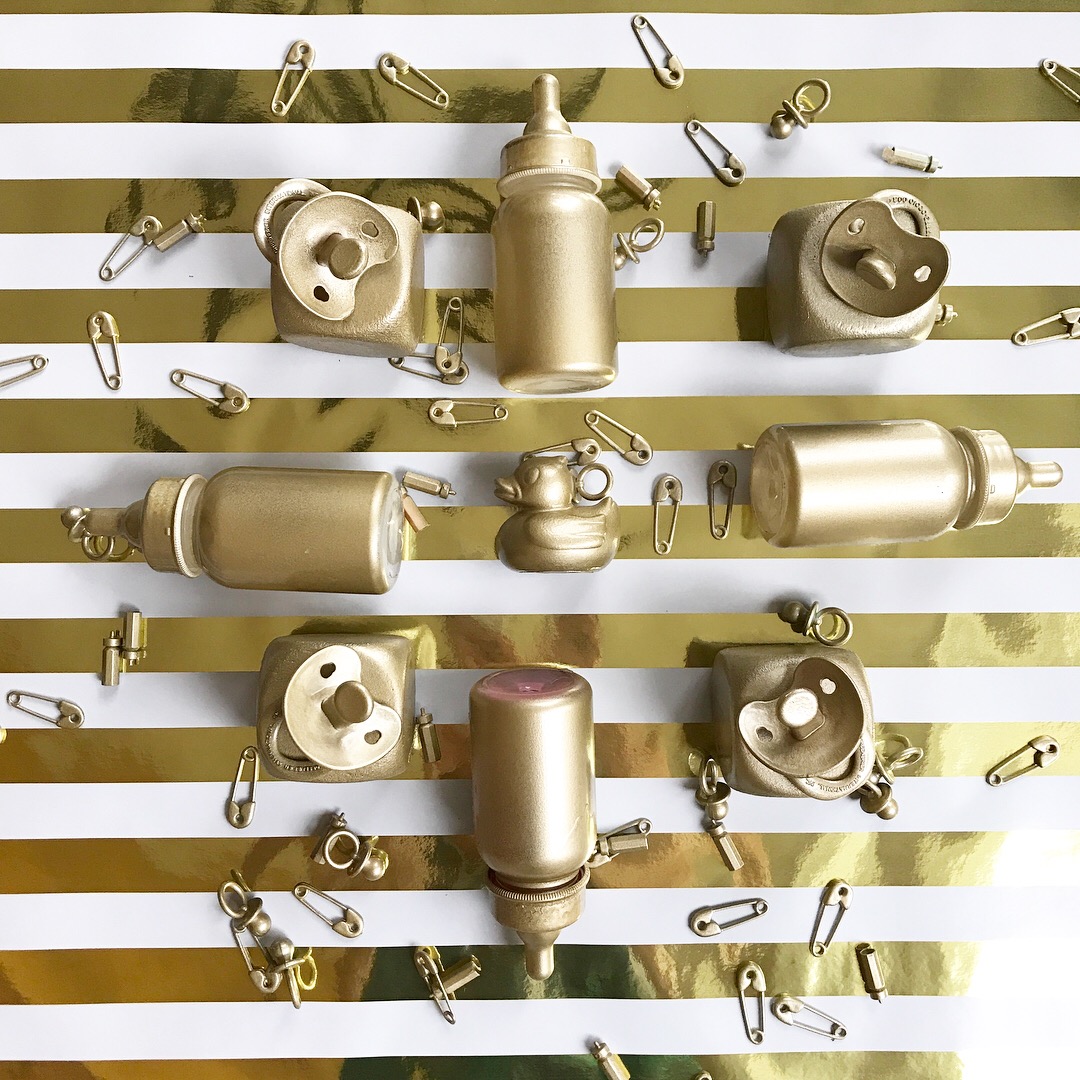 Other pieces that needed to be pulled together were balloons, plates, silverware, cups and straws! I popped over to my favorite online party store, Haus of Hooray (Indianapolis-based, but ship nationwide) to find the perfect mix of items.
For the gender reveal, Simfully Sweet designed the cutest mustache cookies that I ever did see! You see, the host, momma-to-be and her husband were the only ones who knew the gender of their baby up until that day!
A few additional pieces needed to be crafted, like banners for both the treat and gifts tables as well as activities. We wanted to keep those simple, so we went with a game where they were able to guess all of baby's stats and these adorable cookies ended up being a better prize than anyone could imagine!
I just loved being able to take the stress off the host by putting together the perfect kit for the baby shower she was planning! Do you have any showers or parties coming up where you could use a hand coordinating all of the big + little details? Let me know how I can help! #partytime